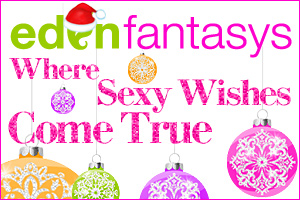 I love Christmas. I love to decorate, bake,put up a tree, make and wrap presents, dress up for parties, undress like a package at home...you get the idea. It really is a fun and joyous time for me.
The joy of the holidays usually creates joy throughout my whole life and I feel more sexy and kinky during the holidays. I know I am swamped doing cards, decorating, baking, making gifts and getting packages ready to send to faraway friends and family. But I am horny too. I think I am just wound up with the excitement of the holidays it makes me want to suck, fuck and get beat. In any order pretty please.
The EdenFantasys.com Community is also has some holiday cheer going on so I just wanted to point out a few things going on there:
* They are having contests, activities, discussions, and online parties for the holidays. The contests are offering up some great prizes. So make sure you go and check out the Holiday Calendar of events. I mean how can you resist a Coloring Contest! I love to color and even have a new box of crayons ready to use.
* They also have a good Holiday Gift Center going on so you can get ideas to buy your lover high quality toys. I bought some sex toys tonight for special people on my list. I know they will enjoy every moment with them.
* And they also have a Give Back program going on right now. If you gather points when browse at EdenFantasys.com then you can donate those points that will be turned into cash so that some holiday volunteers will adopt a family in their neighborhood to help during the holidays. So the money is going to those that are in need.
I hope everyone has a great holiday season...full of peace, love and joy!