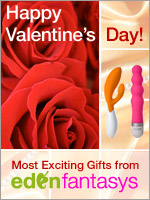 "Sex is also flirting, fingers, kissing, toys, saucy text messages, laying on your lawn with your lover and looking at the stars... sex is a way of being and living... which sex acts you choose to engage in and how your body responds... now that should can be as vast as the population on earth." ~ Ducky Doolittle
The quote is from
an interview q&a on Eden Fantasys with Ducky Doolittle
. I love it because that has been my thought on sex too. To me sexual acts can happen from erotic and intimate moments that you don't expect - even without touching sexual bits or having penetration. Just like Ducky Doolittle says from "laying on your lawn with your lover and looking at the stars" - I can see that being sexual. When I was high school, the first boy I really loved - we laid on a platform of a school playground equipment looking at the stars. Our bodies close, holding hands, passionate kisses and it did feel like sex to me. It was very intimate and erotic - my body and mind responding.
The quote is an answer to the question of what is her most frequent question she gets when teaching and it is from straight women asking how to orgasm from
penetration
. From Ducky Doolittle's answer - it seems most women don't view having an orgasm another way as "real sex."
When I lived in Cleveland, I met a young woman who was in her early 20's. She said she was a virgin but in talking with her I realized she wasn't in my terms. She had oral, anal, fingers, adult toys and other mutual satisfying sexual acts with her boyfriend but just not vaginal so that she would be a "virgin" on her wedding day. I asked her if she really felt she was a virgin even though she had done all those sex acts. She said "those aren't sex" - I know the look on my face showed my surprise. I couldn't believe someone was telling me about all these intimate, erotic times where she had mutual pleasure with her partner but they weren't sex? Honestly, I told her that I felt she wasn't a virgin even if she hadn't had vaginal sex.
After meeting her, I did some internet surfing research to find many young women do this and consider themselves not really having sex because they haven't had vaginal intercourse. They don't view having a cock stuck up their ass as sex. Really? I just don't get that. I don't how that isn't sex.
I guess I feel from what that young woman told me and the young women I read about were saying that because that is what they wanted to hear and believe. These girls have to convince themselves they are virgins for their wedding night even though - they have done everything else sexual under the sun, moon and stars. I find that sad. I find it sad they can't just admit they wanted to have sex - so they did and enjoyed it.
How about Bill Clinton saying he didn't have sex? I mean that was HUGE scandal to something that was sex. He had sex - a blow job is sex. But I think we are so stuck on how we want others to perceive us that we don't admit the truth. He couldn't say he had sex because well that would be "bad" that he had an affair. Those young women couldn't admit they had sex because then they wouldn't be virgins for the wedding night. Are we too uptight about sex? Are we too concerned with what sex shows about us? I mean do we as a society view sex as a bad thing? I am not sure I have an accurate view on it as
I have a blog that talks about sexual things - so maybe I am the wrong person to be asking as I am very open about sex.
I guess I just view that we kind of get worked up about sex in ways that ultimately lead to unrealistic and unhealthy views of sex.
Disclosure: EdenFantasys provided me with a gift card in exchange for this post. All opinions are my own, and were not influenced in any way.