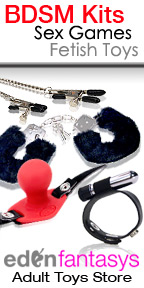 I have read a lot recently where it is said that many women that read Fifty Shade of Grey end up writing ads on Craigslist saying they are submissive and not really understanding the consequences of saying that or who might be on the other end of that ad. So, You Read 'Fifty Shades', and Now You Want to be a Sub… by Tessa Taboo on Eden Fantasys Sexis Magazine talks about what a submissve might be getting herself into without knowing much about BDSM.
I can totally understand being upset about these women not understanding what they are getting into, but I also turn back and think about when I got into it formally and what did I do to help ensure my safety. I didn't just arbitrarily put an ad out on the internet without doing a lot of research to know what I getting myself into and what exactly I wanted.
We are adults and we have to use common sense. Will every woman use common sense? No, but those doing research and learning more about BDSM before jumping in will find tips for safety in abundance out on the internet.
So just thought I would add my 2 cents for beginner BDSMer's...
1. Know yourself. Read, talk to people, research and decide what you want. Do you want to know what a spanking feels like? Do you want to be tied up and nothing else? Do you want someone who can be kinky in the bedroom and be on equal footing outside the bedroom? Do you want a long term partner or just someone to play with? Do you want to be a slave? Do you want switch? There are so many options and so many things that it can get overwhelming. Talk, write out your thoughts to get them out and evaluate them, discuss with others and keep trying to figure out what exactly you want. Eden Fantasys has not only BDSM/Fetish books such as Seductive Art of Japanese Bondage, but also has BDSM toys to help you start exploring.
Also remember it's not set in stone. Sometimes these lines and what you want move. It is expected and natural ... don't think that you just have one shot at this and you're done. Have fun exploring all the new thoughts and feelings inside.
2. Find friends you can talk too. You have decided you have these desires....can you tell your vanilla friends? If not, then start looking for friends in the lifestyle that you can be open with so you can discuss your desires. Being able to have friends as a sounding board for not only your desires but someone you are interested in is invaluable. Friends are great at helping you gain perspective and kicking you in the butt when you are acting without thinking.
3. Get Offline and get out. Find local lifestyle groups to help you explore those desires by talking and learning from others. Getting out and going to local groups helps in finding local friends and eventually potential partners. If you're invited to a play party or dungeon, then try to go with a friend. It's okay to sit and watch a few times to see what it's about. Ask the people throwing the party if you can just be a 'fly on the wall' because you're new and just trying to figure out what the lifestyle is about. It is really good to see things in action that you have been thinking about.
4. Meet several times before playing. Meeting up with a potential long term partner or play partner then have vanilla type dates first. Meet for dinner or coffee. Talk and talk and talk more about what you both are wanting and expecting from play or a relationship if that is what you are seeking. Don't do things that would impair your judgement. If you are okay with having 2 drinks, but 3 impair your judgement make sure you only have 2 drinks. When we meet someone that wants to play or we feel that connection with, it is so easy to just jump in with both feet and say lets do it ALL. But again use some common sense...and remember you really don't know this person yet even if there feels like a lasting connection. Did you jump into bed with every vanilla guy you dated? If no, then why do it with the d-types (dominants) you are meeting for the first time.
5. Set up Safecalls. A safe call is when you set up a time to check in with a call to a friend. You will call with a code word or phrase to let him/her know the date/play date is going well. You give that friend all the info you have on your date - name, phone and anything else...such as photo. You tell them where you will be and how long you think you will be there. You can call when you get there, when you leave, and with option for one in the middle just to make sure. If things are going longer then you thought they would, call and set up another call at certain time. Even when just meeting for a date or coffee, set up a safe call because you don't want to suddenly let your desires take over and say yes to this guy who is saying, "lets go play." I like even better setting up to meet the friend after. Because no matter if playing or just meeting it is always good to talk with a friend about it after. Also let the person you are meeting know you are meeting someone after your play date. If it is someone who was going to go further, they might think twice about it knowing your friend might push you into going to the police if you were battered beyond what you negotiated. It might not stop someone like that, but it might.
6. Trust your instincts and be honest with yourself. Being honest with yourself helps you trust your instincts and vice versa. If you are feeling off about someone, but they are turning you on you might ignore that instinct by lying to yourself. So be honest with yourself - does something feel off? Does this person really want the same things I do? Does it feel good sitting having coffee with this person as well as playing?
Now after all these tips, I will say sometimes tips like these won't make sense for the situation, but again it comes down to trusting your instinct and knowing even with safety tips doesn't means you are totally safe. Anything can happen. Just use your head and be honest with yourself.
Disclosure: EdenFantasys provided me with a gift card in exchange for this post. All opinions are my own, and were not influenced in any way.