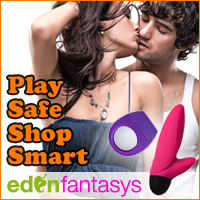 I love sex toys so I like to make sure that I take proper care of them. So knowing how to clean them and what lubes to use is important to me. I don't want to spend lots of money and then ruin something because I was jumping into play without knowing some handling will harm the material used on/in the toy.
Such as d
id you know that you can boil, soak in bleach and water solution, wash with hot water and soap, or place the Njoy Pure Plug in the dishwasher? It is made of Stainless Steel and so allows for a wide range of cleaning options.
Did you know that you can't use silicone lube on silicone toys? It will break the silicone down. Water lube is best for silicone toys.
Did you know that know that you can't sanitize jelly toys such as a rabbit vibrator? Because of that reason you should only use it on yourself and not share unless you use a condom on it. Jelly toys can only be cleaned by warm water or a toy cleaner made for jelly toys.
I am allergic to latex and I also just like knowing what I am using in/on my body so knowing what materials the toys are made out of is important to me. One of many reasons I love shopping at EdenFantasys.com is because their product pages give you so much information. Not only does EdenFantasys.com have reviews, customer ratings, color availability, and size/dimensions, but they show you what material it is made out, the texture and also have a little safety material meter too.
Screen Capture of EdenFantasys.com Njoy Pure Plug
Not do they have a great amount of information on the product pages, but they also have this Guide to Materials right on their website so you can look up any material and find the safety meter, how to clean it and what lubes to use with it. I know I learned a lot by reading it and know I will play with my toys more safely and get a longer life out of them.
Disclosure: EdenFantasys provided me with a gift card in exchange for this post. All opinions are my own, and were not influenced in any way.