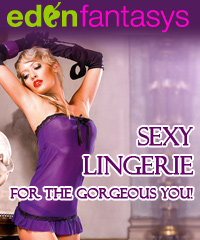 Eden Fantasys has
a Coquette lingerie giveaway
going on right now where they are giving away 6 pieces of Coquette lingerie to 3 people. You have 5 more days to enter so go over and make sure you do as they have some really pretty and sexy lingerie.
I have to admit that I hadn't taken a good look at Eden Fantasys lingerie before today. But I am now wishing I would have looked a little sooner. I am really like the Coquette lingerie. I am a big girl and they do show some Plus Sized Models in their lingerie to - so that is nice.
I have quite a lot of lingerie, but haven't bought any new lingerie in years and years. I mean probably more than 5 years. When I first moved in with Master, I would dress for him every night. I would wear lingerie or just something sexy like a short short skirt, with garters and stockings peeking out and a blouse showing lots of cleavage. Every day I would greet him at the door all dolled up.
But he now works from home so it is hard to "surprise" him with it when we are together all day. But really there was another reason I stopped wearing lingerie - and that is because I didn't feel sexy in it anymore. It didn't make me feel good or give me any pleasure to put it on.
In the post about the giveaway it says: "You don't need to wear lingerie for anyone but yourself and for the pleasure it brings you. When you feel good about yourself – under your clothes or out of them – you exude sexy, ooze confidence." I totally agree with that sentiment. I think wearing
sexy lingerie
because it brings you pleasure and makes you feel good about yourself that it will give you confidence that will make you feel sexy and exude sexy. But for me wearing it so much - I think took some of the pleasure away. It made it feel ordinary instead of special. I love to feel sexy everyday and yes maybe lingerie is that way for some but for me, I like just wearing it every so often because it keeps it as that thing I know I can put on a feel sexy but it also makes it special and different to get away from the everyday mundane things in life. I enjoy the feeling of sliding on a pair of sexy panties, a sheer babydoll, lace topped thigh highs or anything that has that look for me - it just like the quote says makes me feel good about me which brings on a level of confidences that is sexy. I like putting it on and it gives me a little escape - from all the work that needs to be done, bills that need to be paid and laundry stacking up - it allows me to feel sexy and know those things will wait for a bit.
We are most likely going to be taking a road trip for business soon, but it is always a time when I decide to pack some sexy lingerie,
sex toys
and some kinky items to spice up our nights on the road. I am not sure what it is about being in a hotel room that brings out really good kinky sex but I have many fond memories of our travel time. So maybe some new lingerie would be the icing on top of the cake for this trip.
Disclosure: EdenFantasys provided me with a gift card in exchange for this post. All opinions are my own, and were not influenced in any way.